So. You're all set to go to college, and you think you want to try your hand at the whole cooking thing. But you don't want to buy stuff you don't need, and you don't want to be halfway through a recipe and realize you don't have a piece of equipment you need. Let me help you figure out what to buy.
You simply must have mixing bowls. This is the Pyrex 8 Piece Mixing Bowl Set. They are $21.95 at Target. I like them because they come with little lids, which is helpful if you make something that needs to be refrigerated. The lids also tell you how much each bowl can hold, and that's nice to know when you're trying to pick which one to use.
Everyone needs a frying pan. I don't think you need a whole set, though. One is plenty and typically all you'll need for a recipe. I like this one, again from Target, for $15.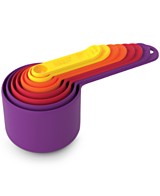 Measuring cups and spoons are also essential, and this set has everything you need. It's only $10 from Macy's, and I'm in love with the space saving design (dorms are not roomy) and the colors.
There are some kitchen utensils that you might not think of, but you almost definitely will need at some point. This set has all of them, including measuring cups and spoons. So if you weren't a fan of the ones above, here's another option. The whole set is $40 from (you guessed it...) Target.
You'll also want to have a pot set, or at least one "all purpose" pot. They come in handy for everything from pasta to hard boiled eggs.
You need at least one sharp knife and a cutting board, but I'm loving these which I've seen priced anywhere from $30-$60 online. THE COLORS THOUGH.
Those are all of your absolutely essential items. Good luck with your classes and your cooking!